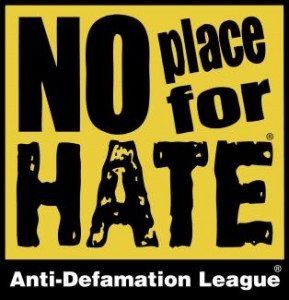 The No Place for Hate® campaign empowers elementary, middle, and high school students to promote respect for individual and group differences while creating inclusive school environments where all students feel valued and respected.
The goals of this campaign are to combat prejudice and to stop those who, because of hate or ignorance, would hurt anyone or violate their civil rights. By participating in No Place for Hate® activities, schools educate their students to foster understanding of the many cultures, religions, and traditions that are shared by members of our increasingly diverse and growing community.
The Las Vegas Regional Office has been coordinating the No Place for Hate® campaign since 2004. Over 130 schools in Nevada have been involved since the launch. Schools throughout the Clark County School District, including those in North Las Vegas, Las Vegas, Henderson, Bunkerville, Boulder City, Laughlin and Mesquite are eligible to participate. It is not too late to sign up your school.
Please call (702) 862-8600 to schedule an informational meeting.